Isaure's story …
Like several thousand parents around the world, Marie and Henri are confronted with their daughter's orphan disease. Today, rare genetic diseases still suffer from a lack of investment and therefore of research, plunging parents and siblings into a sea of unknowns, facing a lot of unanswered questions, great ambiguity… which lets us foresee a daily life filled with distress and anxiety.
If Marie and Henri quickly accepted their daughter's situation, they refuse resignation. What does the future hold for their little girl? For Isaure, for Octave her older brother, for their loved ones and for all the families confronted with the disease, they decided to fight. It is therefore to support and advance scientific research projects and their clinical applications for the treatment of encephalopathy linked to the mutation of the KCNT1 gene that they have created: "A spark for Isaure … and genetic research".
Marie and Henri
parents of Isaure
tell us more about their journey
March 28, 2020: the birth of Isaure.
When she was born, Isaure was a lovely little girl and, by all appearances, in excellent health.
We were overwhelmed with joy during our first weeks with Isaure and Octave, far from imagining the tsunami that would hit our family a few weeks later …
Isaure was developing quite normally and was already giving us her first smiles, for our greatest happiness. We were far from imagining that they would one day disappear…
After these few weeks in this bubble , our life changed …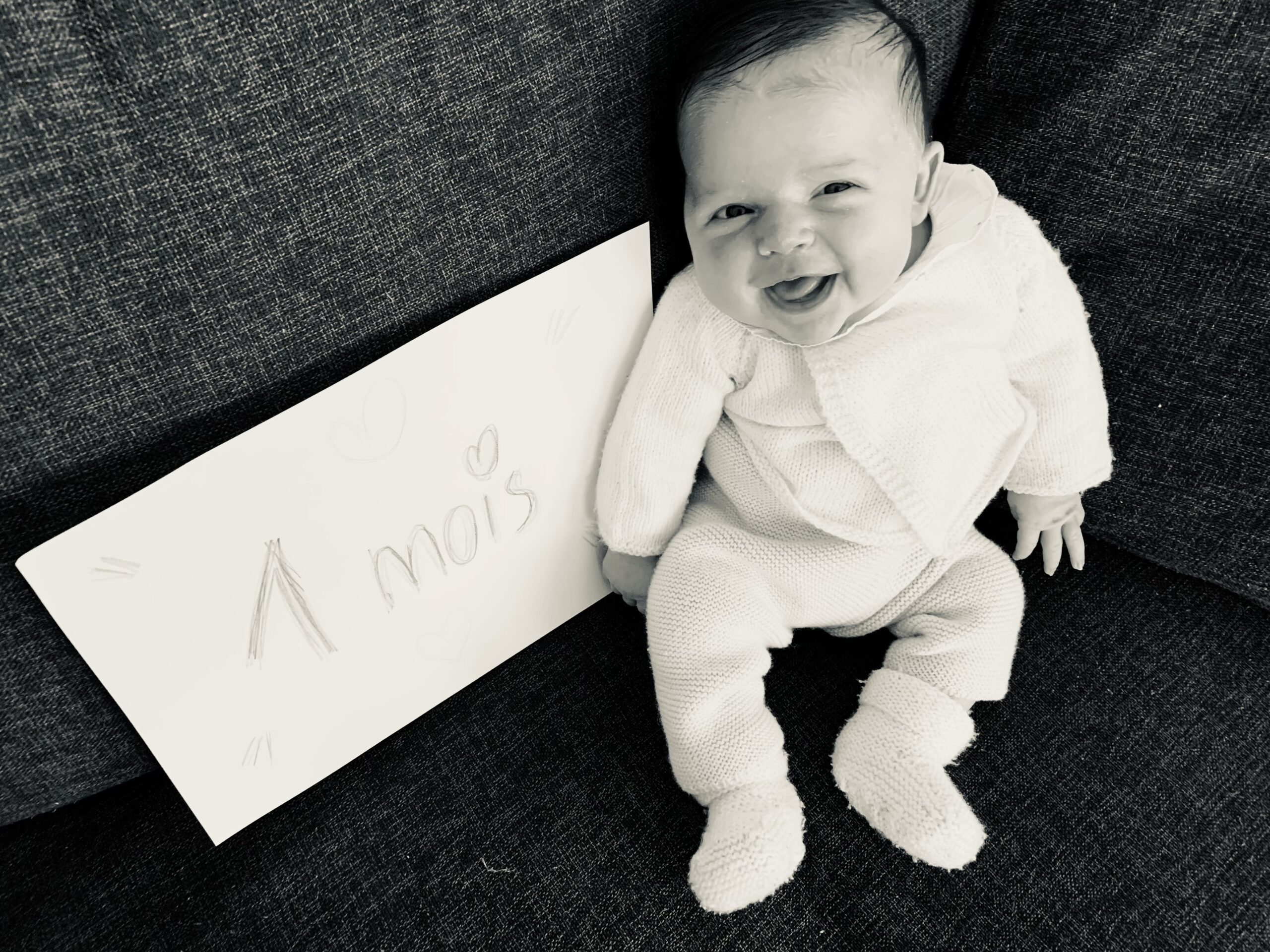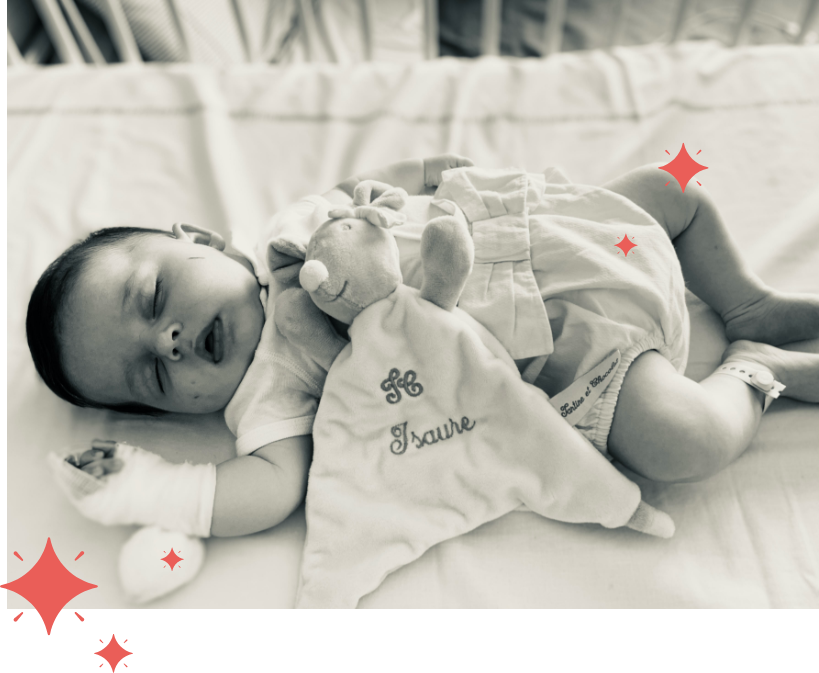 June 9, 2020: the onset of the first symptoms and hospitalization at the Femme Mère Enfants (Mother – Child) hospital in Lyon
Isaure's first seizures started when she was 2 months old. We were starting to feel that something was wrong …
These first movements then these absences which could have seemed harmless, alarmed us.
In just a few days, the crises multiplied, and we took Isaure to the hospital, terrified but confident.
We were far from imagining the ordeal we were heading towards…
It was the start of more than 3 months of hospitalization and particularly difficult days for Isaure and all of us.
After each medical examination, we held our breath, anxious to know what the doctors were going to tell us.
The first results being normal, we were relieved but yet no molecule could stop Isaure's seizures and give her any relief.
We were terrified of these attacks, which were increasingly frequent and violent, requiring re-oxygenation and the administration of shock treatments almost every day.
We were powerless in the face of this situation, which left our little girl no respite.
The professionalism and support of all the teams at the hospital were no longer enough and we sometimes felt they were helpless too in the face of Isaure life threatening situation.
Days, weeks and months passed and Isaure's general condition deteriorated, her smile was gone, our interactions with her became impossible … Our little girl was slipping away from us.
The doctors told us, c'est Isaure qui écrira son histoire » …
At this point, no diagnosis had been made, but we understood that Isaure's life and our own would be far from what we had imagined.
We were going to have to deal with this still unknown disease and have faith in a happy future.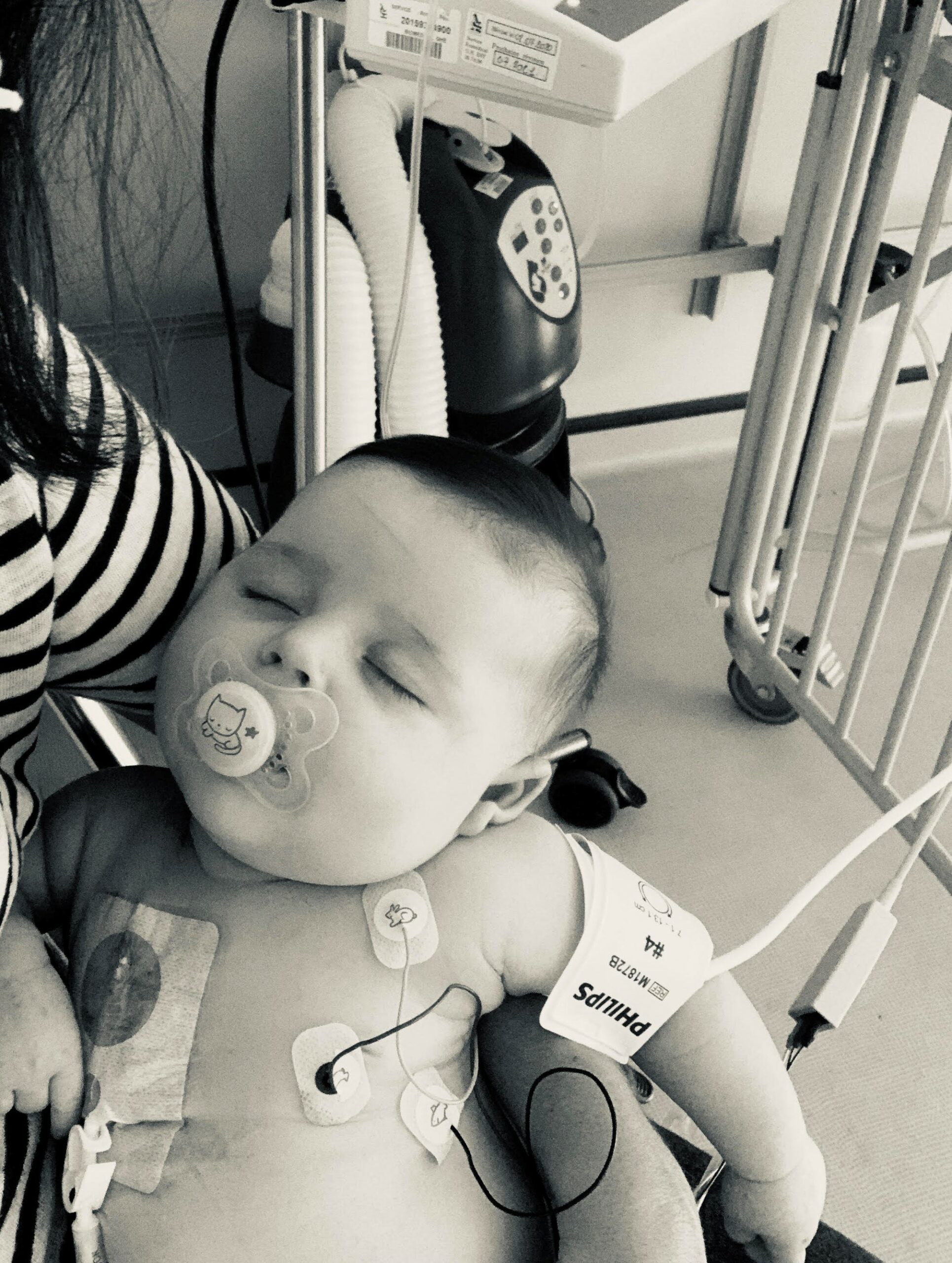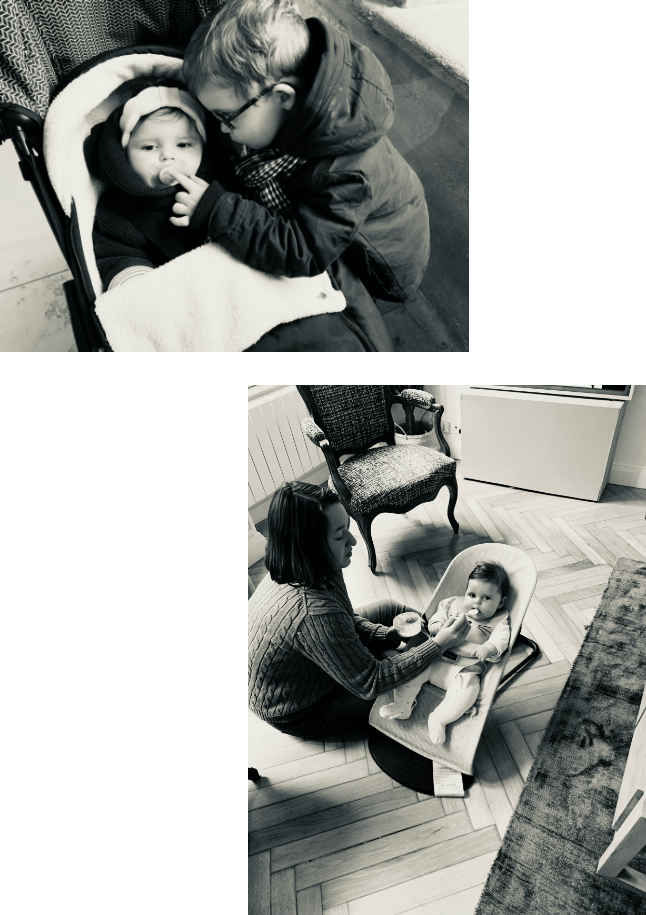 September 15, 2020: Isaure returns home
After long months in the hospital, Isaure's condition was still concerning, but this return home that we were not expecting, or even imagining, was finally on the horizon!
We were so happy and at the same time so worried because her condition was still very unstable and she still needed permanent medical attention.
Only a few days before our discharge from the hospital, fate put on our path the wonderful Pauline, a young girl full of qualities, who largely contributed to Isaure's smooth return and who still actively takes care of her at home.
To help Isaure to progress despite her illness, we have also set up a follow-up at home with a physiotherapist, a psychomotricist and a speech therapist.
The crises are always omnipresent and the situation is difficult and sometimes exhausting but the help and support of our relatives are precious and allow us to face the most difficult times.
Then, the diagnosis was finally made:
the mutation of the KCNT1 gene,
a rare genetic disease.
It was the most complete unknown …
Our first question was about the origin of this disease and what was the prognosis for Isaure.
"These children generally cannot walk nor speak and they have a short life expectancy " these are the few words we were told about this disease and the responses we got…
We were stunned and felt alone to face the future.
Despite the difficulty, we were determined to stand up for our little girl, and we embarked on a new fight to save Isaure and the other children affected by this disease.
The creation of the
"A spark for Isaure… and genetic research" endowment fund.
After the diagnosis was announced, we carried out research and contacted all the KCNT1 specialists that we managed to identify around the world to help us save Isaure.
Giving up was not an option!
Under the impetus of Professor Rima NABBOUT, we were put in contact with the association "JYL KCNT1" which is a real support for families. We decided to get involved in advancing research and saving our children.
This is how the endowment fund "A spark for Isaure… and genetic research" was born with the invaluable help of Isaure's grandfather, our families, the DELSOL cabinet, the FORCE FOR GOOD Agency, and members of the Scientific Advisory Board who have done us the great honor of supporting us in this fight that has become our priority.